Who Is The Best Football Player In The NBA?
I SAY.......................Allen Iverson!!!
http://www.youtube.com/watch?v=hCAkVvNFk-0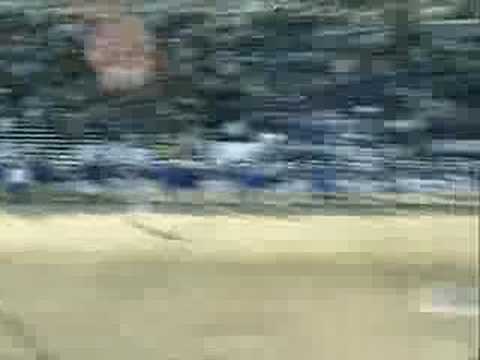 &mode=related&search=
Update:
FOR THOSE OF U DUMBASSES THAT WROTE NBA IS FOR BASKETBALL, I HAVENT HEARD ANY MORE OVBIOUS **** THAN THAT, I KNOW!!
Charlie Ward is a Heisman Trophy winner. I don't think he is active in the NBA, however.

Allen Iverson was the quarterback of his high school football team.

Login to reply the answers

Allen Iverson was great in HS. LeBron was an All-State WR in Ohio, one of the best HS football states. My pick though is Nate Robinson.

Nate Robinson would have been drafted in the NFL had he not left U. Washington early for the NBA. He was a hellified CB even at 5'9. But you see what he can do in the NBA were 5'9 is a bigger handicap than in the NFL.

For this type of question, you have to take into account who they were competing against. Nate Robinson dominated the Pac-10. Much better than your local HS teams, AI.

Check out this link too for an all-star football team made up of NBA players.

http://insider.espn.go.com/nba/insider/columns/sto...

Oh, and Charlie Ward isn't in the NBA anymore.

Login to reply the answers

although i will agree with you that allen iverson was a very good athlete, do any of you guys remember a player from the knicks named charlie ward?

if not let me remind you, not only did charlie ward win the HEISMAN trophy he also led Florida State to a national championship over Nebraska in 1994.

he probably would of been a better quarterback then NBA player but he chose the NBA over the NFL.

here is wikipedia so you can read up on him

http://en.wikipedia.org/wiki/Charlie_Ward

Allen Iverson was good but he was no Charlie Ward

and like wiki says Ward could of played baseball in the majors as well.

gotta love these freak of natures who can play all sports

Login to reply the answers

Either Shaq at tight end, LeBron James at wide receiver, or Allen Iverson at...everything obviously.

Login to reply the answers

How do you think about the answers? You can sign in to vote the answer.

Allen Iverson and Lebron james were raw in high school as football players!!!

Login to reply the answers

Shaq seems the obvious answer but football is a lot different than basketball. If you're not someone who loves the full contact of football, you're not going to make it. A lot of those guys end up playing basketball or baseball.

Login to reply the answers

it is notably sturdy in view it is just about each and every of the gamers interior the NBA! Does he understand each and every of the stats and stuff? if so, he would desire to attempt out for the "Stump the Shwab" tutor on ESPN. it is a activities trivialities tutor the place you compete against the Shwab, who's a activities trivialities genius. He can pass on television and win lots of money! that would desire to be relatively outstanding, exceptionally for a 13 year old!

Login to reply the answers

Julius Peppers would've been a beast power forward(yea itz off subject) and Lebron would dominate at WR, oh yea i seen AI's high school highlights and yes he was monster at quarterback but his size hurts him at tha position so if he wouldve stuck with football he wouldve been a WR in college, and Steve Smith Caliber player

Login to reply the answers

allen iverson... he'd be a great running back... no one would catch him. as a wide receiver he would be open all the time in the end zone because no one would be able to keep up with him.

Login to reply the answers

Shaq: he's so big. I doubt he's only 330. I think he's 360 lbs.

Kobe: he can play any sport.

Rasheed Wallace and Ron Artest: finally, they can hit people without getting in trouble

Tony Parker: he's amazingly fast. No one can catch him. But if he gets tackled just once, he's busted. Same with Leandro Barbosa.

Login to reply the answers
Still have questions? Get your answers by asking now.