Is Martha Stewart possessed by Satan?
http://www.youtube.com/watch?v=gT_gxpyavag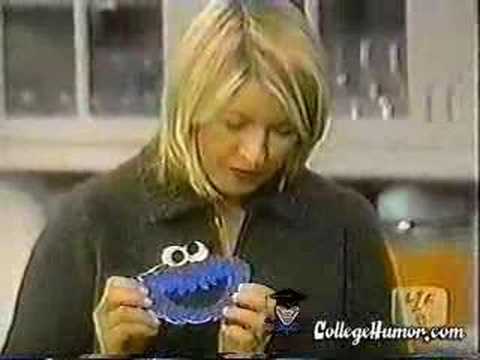 Selfish wench. Those cookie suck. *Gobbles up Martha Stewart* Narm, narm, narm. Blech! *Spits*
Cookie Monster no feel pain but can taste beeyotch a mile away. Sorry Cookie Monster been gone so long, had to escape from Martha and eat computer to stay survive.
http://www.youtube.com/watch?v=gdAKgJDahzw
*Tosses fresh-baked cookies* Now made with cinnammon-baked babby and tapioca babby chippings!
Update:
*Looks up from eating* Babby WHOOOO?!?
If Martha Stewart died, Satan would reincarnate her just to get a moment's peace.

Source(s): (((((THRICE!!!)))) Missed you so much. XXXX

Who's Martha Stewart? Never heard of her.

actually i think Martha Stewart possessed Satan

Source(s): poor guy i wouldn't wish that faith to anyone

I hear she lives near 57th and Ninth in Manhattan: Hell's Kitchen my dear babbling bobbling babby-head bubbler. If that's nawt proof of her nature, then I don't know what is.

(catches cinnababb snax)

Thanks love.

How do you think about the answers? You can sign in to vote the answer.

Martha Stewart is not possesed by Satan. She's related to him. He's her uncle.

I think Martha Stewart got a bum rap. I give her credit for gracefully doing her time and coming out of it without hanging her head

No...you have it backwards...

Satan is possessed by Martha Stewart...

Martha and Satan got together and had a child--I'm sure you've heard of Mothra!! I'm glad you're back. ((((Cookie))))

I think she makes satan look like a one month old child. she is the root of all evil.

yay!!

yes Martha Stewert is satan and Hannah Montana is her daughter :D
Still have questions? Get your answers by asking now.