Ramadan Section: LOOOOOOOOL...Do you Wanna Laugh?
Asalam Alaykom Buddies,
I LOOOOOVE GOATS! DID YOU KNOW THEY CAN SPEAK??
I wish I could keep them =(
I've been laughing at these vids for the last hour!!!!
HAHAHAHAHAHAHAHAHAHAHAHA
AHAHAHAHAAAAAAAAAAAAAAAHAHAAAAAAAA
THIS GOAT SAYS "WHAAAAAT?"
http://www.youtube.com/watch?v=x0S5zS8jSE4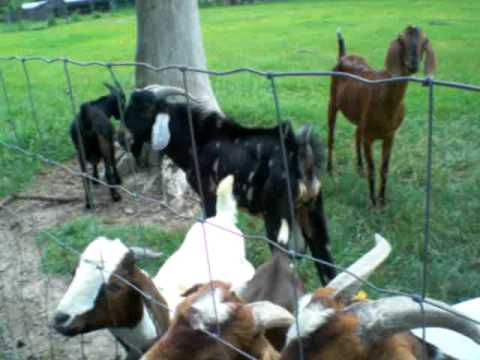 THIS GOAT SAYS "MOM!!"
http://www.youtube.com/watch?v=K1uMOLPXfzo
BWAHAHAHAHAHAHAHAHAHAHAAAAAAAAAAAAA
Update:
LMAO @ NOUB...ok bro, alhamdulilah you laughed =)
Update 2:
@ Hope: LOL your bro sounds like that? ahahahahaha
and ya your right the second goat sounds like "maaam"
Update 3:
@ Muslimah: I am obsessed with goats lol.
Update 4:
@ Dawn: Neyalak ya Dawn....bas Ya333 goats milk!
LMAO chocolate milk, jordanian style...hahahaha
Ewww =( I want to keep goats not eat them or drink their milk lmfao. Yallah InshaAllah when I have a farm.
Update 5:
@ Dawn: Awww 3anjad? haram =(
I imagine that would cause *some* complications lmfao.
bas they're still cute, especially when they're babies =)
LOOOL OMG was that normal? Shfeehom 3asa ma shar, that goat in the first vid... mareetha wela yo3ana wela m3a9ba, shino 9ayer?? And can we see less of its butt please?! LOL o the second one i think is amreeky :p LOOL those goats made my day wallah :p Mashkoora i5ty 3ala il video, tslameen :)

Login to reply the answers

Lmao funny! The first goat sounded like my older brother! Hahaha and the second goat has an American accent for some reason. Weird!

Login to reply the answers

That grew to become into very wonderful of you, will visit you quickly sometime, even nevertheless I actually have a Duck on Yahoo solutions, she gets a dash scared and dizzy with the consumers in R&S, no longer all yet with some ;p i would be having: kebabs, hen curry with chapatti and a facet salad! besides the actuality that i assume i will munch on the kebabs and then ignore on the subject of something ;p basically a million/2 an hour to circulate! ;)

Login to reply the answers

ana bagol el goats milk is good with chocolate over Mt. Kursi here lol

Edit

goats eat anything anything and everything, plastic bags is a fav meal lol

Edit

inshallah 3al rabee3 i can send u baby goat pictures

Login to reply the answers

How do you think about the answers? You can sign in to vote the answer.

I hope nothing is wrong with the goats they seem stressed out.

Login to reply the answers

yes funny but not funny enough to laugh for an hour

Source(s): :-) maybe your sence of humour is better than mine LOL

Login to reply the answers

HAHAHHAHAAAAAAAAA @ FIRST ANSWERER.

Well Beebo u did give me a laugh, cos if you dint ask this question the first answerer would not have answered like that so i would not have laughed.

so thanks for the laugh both beebo and first answerer

Login to reply the answers

Login to reply the answers

Login to reply the answers
Still have questions? Get your answers by asking now.