Can tractors be used for other jobs besides farming?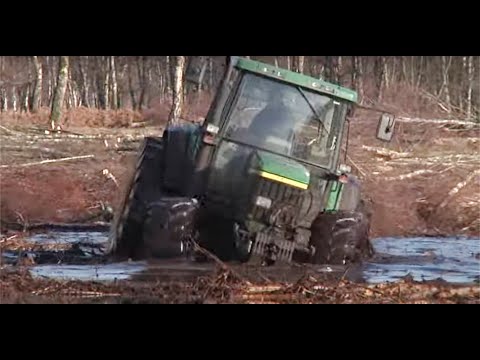 I saw this video of a tractor pulling logs in a forest and found it interesting. I didn't know a tractor could be used for much besides just farming.. What other jobs can tractors be used for?
Update:
Edit: this is still agricultural usage? It looks like he's in swamp lands... I didn't know you could even drive in conditions like this 
Of course they can. But I fail to see the relevance of that video as it's still showing agricultural usage.

My local council uses them to tow grass mowing attachments at our larger public parks and public football grounds.

The primary school my wife works at has very large attached grass playing fields, which adjoin those of the local high school. The primary school owns a tractor which the high school also pays to run and maintain so that both schools get their playing fields mown regularly. 

Their tractor also gets used to tow an aerator attachment to promote grass health and to facilitate drainage. 

It gets used with a brushcutter attachment to go around the borders of the playing fields to trim down bushes and sapling trees which would otherwise encroach onto the playing fields. 

If snow or hard frost is forecast, the tractor is used to spread salt on the school outdoor car parks, driveways, pathways, and hard-surfaced playgrounds. If snow falls without warning the tractor gets used as a snowplough on both school sites and on local roads.

During the summer fundraising fair, the tractor tows trailers full of supplies to help build and to later dismantle stand and stalls, and during the fair it gets dressed-up to look a bit like a steam-train and then tows passenger trailers for rides around the playing fields.

The school also has a generator attachment for the tractor which works from the driveshaft attachment. If there's a power cut, the generator provides enough power to keep the school gas-fired central heating working and also to keep the school kitchen running if necessary.

The tractor gets summoned if regular vehicles get bogged down on the grass playing field as they get pretty muddy in prolonged wet weather or after snow has thawed on them. Often those cars are owners of 4x4s who believed the "go anywhere" sales guff.

This looks like farming to me.  The crop is a little larger than usual and the mud is a little deeper.
Still have questions? Get your answers by asking now.